The street in front of the museum has been under construction for several weeks. Ultimately, the road will be repaved with stone. In the mean time, it is closed while workers tear out the asphalt, beginning laying the stones, and engage in other road-work-related activities.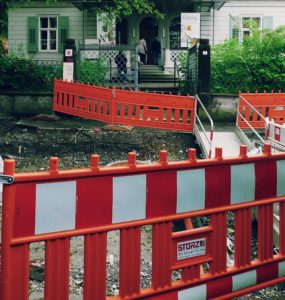 I do most of my work in the library building across the street from the museum, so I cross through the construction zone several times each day.
Although the construction poses a slight inconvenience to museum goers, it is a great source of joy and amusement for the many young Hohenems residents who like to watch the trucks.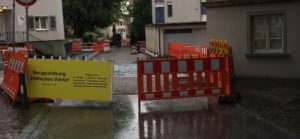 Other things that are under construction: 
-My German language skills. (I can introduce myself and count to ten now, which is progress).
-Austria's national football team. (Or soccer, if you're in America). Austria qualified for the European Championships, which is a big deal, seeing as their record in international football has historically been dismal. (Previously, the only year they had qualified was 2008, when they auto-qualified as co-hosts of the tournament. That year, over 10,000 fans signed a petition to have the team pull out of the tournament to avoid humiliation. The team did not withdraw, but they were eliminated in the first round).
Austria plays Hungary* in their opening match at 18:00 (Central European Time) on Tuesday, June 14.
-My typing skills. The German keyboard is slightly different than the English one—most notably, the letters "y" and "z" are swapped and the German keyboard has several characters that the English one doesn't.
-Plans for the 2017 Hohenems reunion. I'll keep you posted!
---
*Yes, there are many jokes about Austria-Hungary once being a single country.