On Saturday, the museum welcomed performers from both near and far for a concert featuring the music of the Hohenems-born composer Salomon Sulzer, Franz Schubert, and Sulzer's sons, Julius and Joseph.
The performers including American pianist Lorne Richstone, Israeli-born vocalist Shira Karmon (who now lives in Vienna), Finnish cellist Liina Leijala (who comes by way of Ramallah, Palestine and Vienna), Austrian vocalist Veronika Dünser (from Vorarlberg), Berlin-based pianist Karl Kronthaler, and four Palestinian students from East Jerusalem: Rita Tawil, Jamileh Zaatreh, Hiba Awad, and Sama Shafea.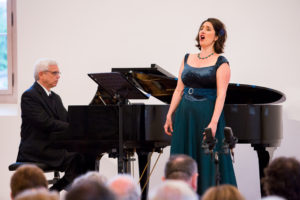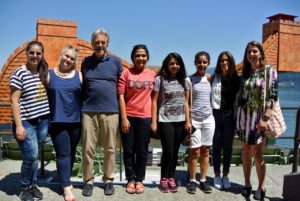 It was a unique (and extremely talented) ensemble. In the words of its creators, the purpose of the production was to "baut Brücken zwischen den Welten," or build bridges between worlds. Indeed, the show seemed to bridge several different worlds: the 19th century compositions of Schubert and the Sulzers were performed by contemporary musicians; vocalists from Austria and Palestine were accompanied by pianists from Germany and the United States; the show itself bridges the gap between Austria and Jerusalem, where its performers will travel later this year.
Although the performers will continue their tour, the show also had a special connection to Hohenems.
Salomon Sulzer was born in Hohenems in 1804. He rose to the position of choirmaster at the synagogue by age 16 and, after moving to Vienna in 1826, became known for his compositions, both Jewish and secular. According to lore, non-Jews often came to the temple in Vienna, just to hear him sing. He also worked alongside many famous composers, including Schubert.
To many people, Sulzer represents a classic example of Jewish coexistence within Europe. Although he admittedly lived before anti-Semitism became a potent political force, his music nonetheless united Jews and non-Jews.
The auditorium which held the concert bares Sulzer's namesake, and is also the building that housed the former Jewish synagogue, originally constructed in 1771. Although the synagogue avoided substantial damage during Kristallnacht (The Night of the Broken Glass on November 9, 1938), most objects of historical and religious significance had already gone missing following the Anschluss (the German annexation of Austria in March 1938). Many of these objects have never been found. After the forced disintegration of the Jewish community of Hohenems, the town seized the building in 1940.
Since there was no Jewish community in Hohenems after 1945, the synagogue was restituted to the Jewish community of Innsbruck. The town of Hohenems purchased the building in the early 1950s and converted it into a fire station, effectively removed all traces of religious or spiritual significance along the way. The building was used as a fire station until 2001, and, after considerable reconstruction, opened as a music hall in 2004.
The concert series continues in Vienna on Tuesday and in Jerusalem later this year.