I spent the last few days in Vienna,¹ Austria's capital and largest city, which is located about seven hours by train from Hohenems.
Vienna is nothing like any American city I've visited. The buildings are older; the streets meet in odd angles; people drink their coffee sitting down; public transportation is both prevalent everywhere and remarkably clean.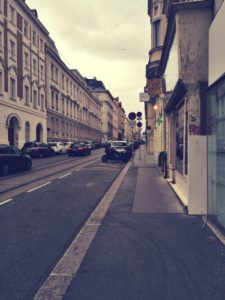 The city is also saturated with Austrian history. Allusions to Kaiser Franz Joseph, who ruled Austria from 1848 until his death in 1916,² are common on street corners and building names, as well as in the city's many museums. I visited the Schönbrunn Palace—the imperial family's old summer home—as well as the Kunsthistorisches and Naturhistorisches museums, which house old imperial collections of jewelry, art, taxidermied animals and more.³
As several people had advised me, one of the most remarkable aspects of old Viennese buildings are the ceilings, which were often very intricate.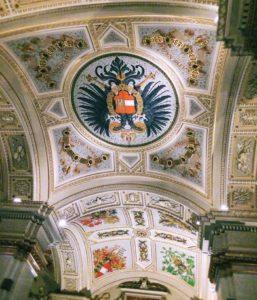 History, though, is hardly limited to museum collections. The ring in the center of town marks the boundary of the old city wall. Vienna also had significant green space—public parks which often date back to the Kaiser's time and make the city's heat slightly more bearable.
A bit of Viennese history was also personal for me. I walked down the street where my grandmother lived until her family left Austria in 1940  and visited the Zentralfriedhof (Central Cemetery), where several of my ancestors are buried. The cemetery is home to over 300,000 graves—making it the largest in Europe and among the larget in the world—and is interdenominational, with separate sections for different religious groups. Founded in 1874, it still takes new burials today.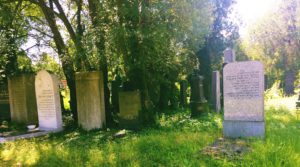 Vienna, of course, has changed a lot since my family lived there. Today, the flag of the European Union flies proudly next to the Austrian one. I walked through the Naschmarket, an open-air market located near the city's center and found excellent Turkish food. And I talked contemporary Austrian, European and American politics over cappuccinos a typical Viennese kaffeehaus and wine down by the Danube.4
Although Vienna is remarkably different from the places that I know, I also found some similarities. Graffiti in public parks and under bridges dealt with issues like refugees and police brutality, which are familiar to me as an American.

Vienna today is also a different place from where my ancestors and relatives once lived. It will continue to grow and change and morph as cities do. I hope to return someday, and in the meantime I'll hope that the roads stay cute and the street food stays good.
Bis nachher, Wien.
---
¹ The city known as Vienna in English is called Wien in German, thus the title of this post. I find it strange that English uses a different name. On a related note, Austria is actually called Österreich.
² Austrian imperial rule collapsed in 1918, shortly after the Kaiser's death.
³ I would highly recommend that everyone travel to Austria at age 18. I still qualified as a child, which meant I could get into most museums free or substantially reduced.
4 When I explain to people that I only speak English, I now also find it worthwhile to note that I'm American, not British. Thanks, Brexit.