A seven-minute walk from the Jewish Museum, there is another old house that has been converted into a museum and tells stories about regional history. The Alte Zeiten Museum¹ explores Hohenems' very early past—the building itself dates back to 1602.
While the house may be old, the museum is very new. The concept originated in 2012, when the building was actually set for demolition. A group of concerned citizens—searching for a way to preserve it—eventually settled on the idea of converting it into a museum. With the help of government and private funding, they restored the building and created inside it an exhibition on the early history of Hohenems.
The restoration of the old house sought to maintain its original character as much as possible. While the museum does have modern electric lighting, the ceilings remain very low.² The floor is composed of slightly uneven boards and a preserved flowery wallpaper is still visible in some places.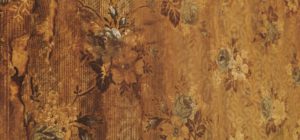 The museum's exhibits tell of early life in Hohenems. Living, of course, wasn't the same for everyone—the museum highlights the relationships between the count, the aristocracy, and the commoners who made up the majority of the population but mostly lived in poverty and had few legal rights.³ Another room details the ignominious history of witch hunts in the region: during the 17th century, some Hohenems residents were accused of—and ultimately executed for—practicing witchcraft. The museum also examines historical events like the Black Death and the Thirty Years War, as well as aspects of everyday life like craftsmanship and weaving.
Across the street from the museum sits another old house. Although it appears run-down today, it was one a brilliant mansion. Built in 1637, it may have once belonged to the mayor of Hohenems, although this claim isn't verified.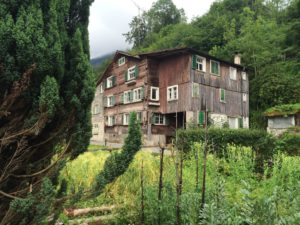 Sägerstraße—the street which today hosts both the museum and the old mansion—was once the main part of Hohenems, but is now nestled in the hills slightly above the center of town.
The building that houses the Alte Zeiten museum, and the constructions that once surrounded it, actually pre-date the foundation of a Jewish community in Hohenems. (The count issued his Letter of Protection for Jewish families in 1617). Although the Jewish quarter and the Sägerstraße are not geographically far apart, there is enough distance to imagine the two communities operating as separate, at least for a time.
Of course, Hohenems has grown substantially since the 17th century. Today, the town not only stretches from the Sägerstraße to the Jewish quarter, but extends outward in all directions. Perhaps because of such growth, it's important to remember (and learn about) the the old times.
---
¹ "Alte Zeiten" is German for old times.
² Tall people will struggle a little bit.
³ Legal and economic inequality based on predestined social determinations existed both alongside and in the absence of inequality based on religion.