In the middle of weird times in London, it is still a joy to be in the city. At least there is no "Brexit" for Jewish Museums. Our London colleagues invited our exhibit "Jukebox. Jewkbox! A Century on Shellac and Vinyl," which opened yesterday at the beautiful Jewish Museum on Albert Street in Camden.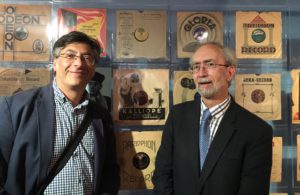 The opening (which they called a "private view") attracted hundreds of joyful guests. We didn't exactly get privacy, but we did have many nice encounters, chats, and discussions. The crowd seemed like they could have stayed at the show forever, listening to the music samples and the intimate, poignant and thought-provoking stories told by some forty "witnesses" of the history of 20th-century global popular music from all over the world.
These witnesses all came together digitally on the counter in the middle of our global record shop of "Jewish music." (The eldest, a man from Warsaw who is now turning 101 years-old, told about his childhood memories of Jewish popular musicians and cantors in interwar Poland. The youngest spoke about her experiences with punk music and hip hop). Visitors explored the 20th century through the contributions of Jewish inventors, musicians, composers and business people to what became the first global culture: the gramophones and the records.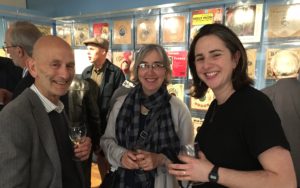 Since the museum had asked me to say a few words at the opening, I took the liberty to question some of the myths about "Jewish music." The history of popular music was definitely influenced by the rebellion of Jewish cantors and their children, Yiddish theatre stars and comedians against their traditions and the expectations of their peers—much more than by any continuity of Jewish culture. But maybe this rebellion against tradition, this ongoing struggle for reinvention is also continuity?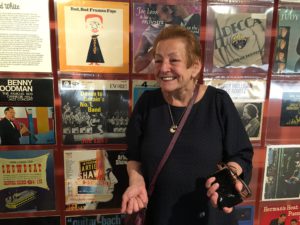 Regardless, our show was a perfect stage for the crowd in the Jewish Museum London to bustle around, to share their own memories of moments where listening to a record could change their lives or perhaps the world, and to discuss the future of their country.
The same day our exhibit opened, the British got a new Prime Minister, jumping out of the box, who is able to say "Brexit means Brexit," without having any idea what "Brexit" could mean. But maybe that is the secret of this tautology. "Brexit means Brexit means Brexit"—which is: it means nothing but a mess, without making sense to anybody. Be sure. We will get more of this in the future.